As Seen On
Take a Tour America's Finest Caviar Farm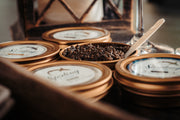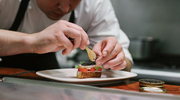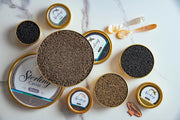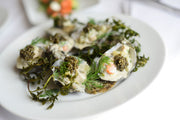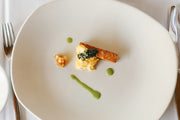 Here is why you should experience Sterling Caviar.


Widely used by award-winning Bocuse d'Or chef to Michelin Chef across the globe.

Each batch takes almost a decade to cultivate, making it a special gift to share and experience.

The oldest Sturgeon farm in North America and leading research for Sturgeon preservation.
Sterling Caviar: America's oldest Sturgeon Farm
Our caviar is best known for its celestial buttery creaminess with light note of nutty flavor and hints of crisp seawater. Widely used by award-winning Bocuse d'Or chef to Michelin chefs across the globe, we are proud to produce some of the most affordable caviar in the market without sacrificing quality. What was once a favorite amongst caviar connoisseurs is now delievered to your home.
Shop now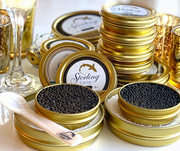 Try it for Yourself !
Royal Caviar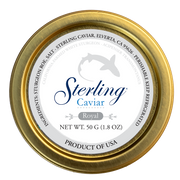 This Royal-grade, White Sturgeon caviar turns ordinary moments into savory memories. The medium-to-large and semi-firm to firm pearls are adored by Michelin chefs, caviar connoisseurs, and everyone looking to turn an ordinary bite into an extraordinary one.
Sterling Caviar Royal's natural richness and complex flavors provides a flavor boost to your favorite dishes. From the honest baked potato to the hearty breakfast omelet, a spoonful of Sterling caviar can turn a Tuesday meal into...
Shop Now
GET 25% off: TRYSTERLING25
Supreme Caviar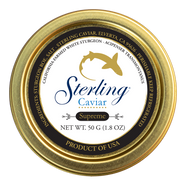 This Supreme-grade, White Sturgeon caviar is characterized by its unique coloring that ranges from onyx to light and dark brown. The large to very large pearls bring a complex, hazelnut and earthy flavor profile that finishes velvety and pleases caviar connoisseurs and casual consumers.
Sterling's Supreme caviar is a little extravagance ready to be enjoyed one spoonful, bump, or garnish at a time. Create cuisine moments that linger on the palate and on the mind.
Pair this gra...
Shop Now
GET 25% off: TRYSTERLING25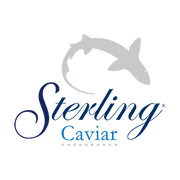 $1.30/GRAM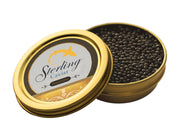 100% Traceability from our farm in California
Premium Grade Caviar at an affordable price
No preservatives or additives
$4.10/GRAM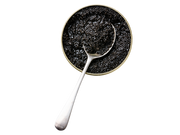 Questionable caviar farming practices
inconsistent caviar quality Highest profit margin
No transparency on ingredients and country of origin
Shop Now
MAKE SPECIAL MEMORIES WITH FRIENDS AND FAMILY
Finding the right Caviar