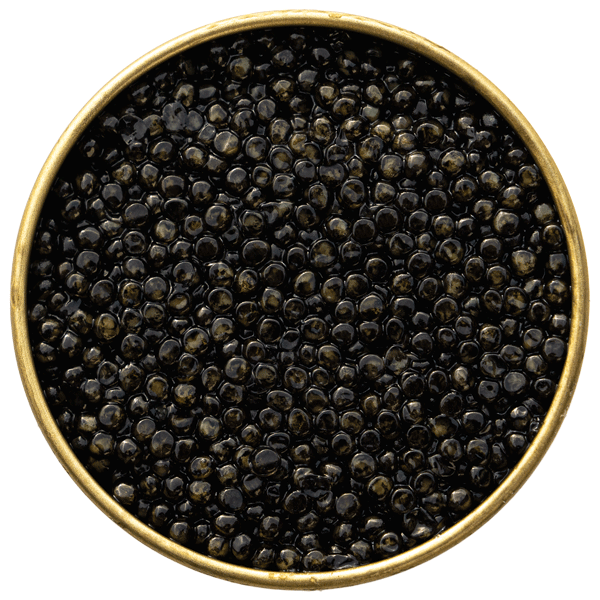 Flavour
Rich, Full, Buttery, Mildly Sweet
SPECIES
Acipenser Transmontanus
METHOD
Farmed for 8+ years
COMMON NAME
White Sturgeon
INGREDIENTS
White Sturgeon roe & salt
no preservatives added
SHELF LIFE
4 weeks, unopened
24 hours, opened
Description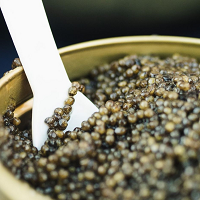 Treat your guests like royalty, Sterling Royal grade white sturgeon caviar, also known as "Black Gold," is identified by its medium to large, semi-firm to firm eggs. Unique coloring ranges from onyx to light or dark brown. A creamy mouthfeel is preceded by a rich, full and buttery flavor with aromas of mildly sweet, salty sea air. Due to its consistent taste and texture, this is an all-time favorite of newbies and connoisseurs alike.
Find out how our caviar gets from our farm to your door HERE.
Please note: As each sturgeon is unique, so is the caviar they produce. As such, it is normal to experience variations in color within each grade. With regards to coloring, caviar pictured here is a good representation but is not necessarily indicative of all caviar within this grade.
Our Farms
At Sterling, we take great care and pride in using traditional methods of producing caviar in an artful manner, producing each tin by hand and taking a deft approach to all we do. Our production is in the traditional malossol method, which means "little salt" and that is all we use – no chemicals, no preservatives, just roe and salt, as has been made for centuries. This enhances the true flavors of the caviar and brings the subtle nuances of each taste to the forefront of the palate.

Our work starts long before caviar production though, and our commitment to excellence and sustainability is a principle we are passionate about. Our quality assurance programs are overseen and held in strict compliance with Federal and State food safety laws and we are certified by the U.S. Department of Commerce Seafood Inspection Program. We are thankful for the environment in which our farms exist and have thus developed partnerships to help create wetlands for endangered species and to protect the areas where we work and play every day. Sterling continues to look to the future for ways we can continually improve in all facets of our business to be good stewards of the land, good neighbors, partners and citizens, all in such a way that we continue to provide the world with the taste of luxury – from our farm to your palate!
FAQs
What is your return policy?
If you are not satisfied with your order, please let us know within 24 hours and we will arrange to pick up and replace your order. Your happiness is our top priority.
What does your caviar taste like?
Sterling White Sturgeon caviar is best known for its buttery creaminess, light nutty flavor, and hints of crisp seawater.
What is the best way to store my caviar?
Caviar is extremely delicate and, as such, is highly perishable. Caviar should be stored in the coldest part of your refrigerator (32° F-35° F / 0° C-1.67° C). Depending on the style of your refrigerator, this is typically in the back and may be on the top or bottom shelf but never in the door. Pro tip: Look for the vent – the spot where the coldest air is being forced into your refrigerator. Never freeze your caviar.
How do I open my tin of caviar?
Grasp tin opener on the larger, oval side between thumb and index finger. Insert smaller, non-oval side of tin opener into space where lid and bottom of the tin meet. Pressing the opener against the tin and moving along the diameter, twist opener back and forth to separate the lid from the bottom of the tin until you hear a "pop." Lift the lid and enjoy!
How long will my caviar last?
Caviar is extremely delicate and, as such, is best consumed within 24 hours and up to 48 hours of opening. Unopened and properly refrigerated, your caviar will last up to 4 weeks.
Customer Reviews
Write a Review
Ask a Question
02/06/2022
Excellent quality for a special Valentine's
Excellent quality and high quality packaging and delivery. Could not be better. Thank you again.
Kenneth F.

United States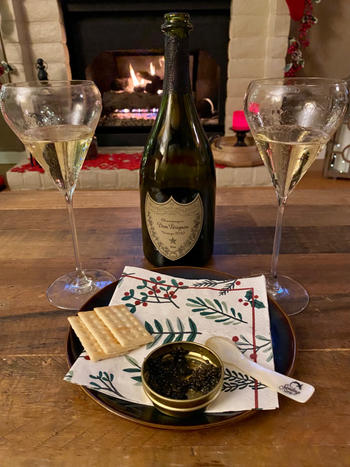 01/07/2022
LOVE this Caviar!
I first received a 3 tin variety gift pack of Sterling Caviar and loved it so much to make ordering Royal a New Years Eve tradition. They always arrive still cold in their cold packs and on time. Really great experience!
Davi G.

United States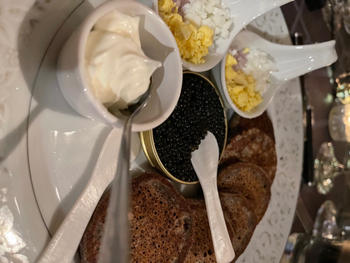 01/02/2022
Awesome caviar!
Great quality abs flavor. Very fresh. Overall I was impressed with both the quality and level of service. Will definitely order again.
Travis T.

United States
12/27/2021
The only caviar I'll eat!
Wonderful! You pick the day you'd like your caviar to be delivered and it shows up with ice packs and an insulated bag to ensure everything stays very cool. And the flavor? Forget about it. Out of this world and Sterling will now be the only place I purchase my caviar.
Hayley W.

United States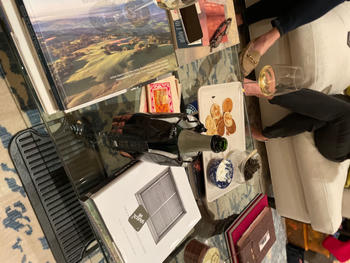 12/25/2021
Christmas tradition
Every year I order Sterling caviar for Christmas dinner with my family. They remind to order it which isn't necessary. It arrives on time and never disappoints. It is a delicious treat and a wonderful tradition enjoyed by the whole family.
Henry R.

United States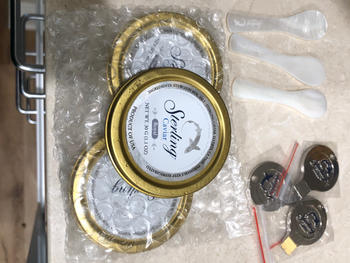 12/22/2021
Buy every holiday season
As always, received my order on the exact date we wanted. We love supporting an American Company & the caviar is delicious. Keep up the good work & happy holiday
Marjean S.

United States
03/17/2022
Excellent
Prompt delivery. Excellent taste. Not, too salty.
Marcia S.

United States
03/12/2022
Mmmmmmm
It was wonderful, and melted in my mouth on top of my homemade sushi it was amazing I will definitely ordering again
Fayth H.

United States
02/17/2022
It's like eating beluga
Loved it, smooth, full body.
Charles S.

United States
Finding the right Caviar