How to Serve Caviar: The Basics, Pairings and More
If there's one food that's often associated with luxury, it's caviar. It's a coveted culinary item due to the delicacy of fish eggs from sturgeon species, including white sturgeon. Add that rarity with its rich and complex flavors that pop in your mouth, and you will understand why caviar often comes with a hefty price tag. It even has a suitable nickname: black gold.
While caviar is undeniably glamorous, it's truly a low-maintenance food. All you need is a wooden or mother-of-pearl spoon, and you can enjoy the rich, velvety, and slightly sweet taste oozing in your mouth. But the culinary world has been experimenting with caviar. Now, there are several other ways to serve caviar, allowing you to explore excellent pairings.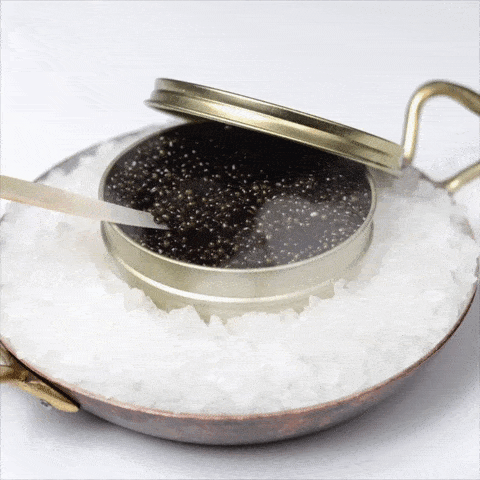 The Basics of Handling and Serving Caviar
Before we talk about the pairings, let's discuss the basics. Despite the expanding culinary usage of caviar, it's still best to follow the traditional handling and serving methods. Whether you're having hors d'oeuvres at a corporate event or a small party at home, you must serve caviar in a non-metallic bowl placed inside a larger and ice-filled container.
Caviar must be kept between 26 and 34 degrees Fahrenheit to stay fresh. Keep in mind that air and heat are the greatest threat to the quality of your fine caviar. It's also best to avoid using metal bowls, spoons, and utensils, which may impart a metallic taste to the caviar. 
The ideal utensil choice for serving caviar is a mother-of-pearl spoon. The pearl doesn't hold flavor or transfer it. You can ensure that the caviar's rich flavor will reign supreme.
How Much Caviar Should You Serve? 
It depends on how you want to serve the caviar—whether alone or in a dish. Plus, it could change if you know how much your guests like the black gold. But the rule of thumb is to serve one to two ounces of caviar per guest. That's especially true if they are encouraged to eat the delicacy alone or pair it with crackers or blinis.
Top Five Ways Your Guests Can Enjoy Caviar 
Now you know the basics of handling and serving caviar, let's explore the different ways your lovely guests can enjoy it. Here are some of the best ways to serve caviar at a party:
Serve the caviar alone.

Purists would agree that the best way to enjoy the fresh flavor of caviar is by eating it alone. Just make sure the handling is on point—from maintaining the serving temperature to picking the utensils. Again, guests will likely appreciate it if they can use mother-of-pearl spoons for ultimate caviar tasting.



If pairing it with a dish, keep it simple.

The pairing for caviar is usually with a buttery flavor dish, like potato or pasta. Some people and chefs also pair caviar with other fish, such as tuna and hamachi. You just have to ensure the fish is fresh, too.



Try the Russian way by pairing it with a blini.

Blini is a popular Russian pancake made of buckwheat. It pairs beautifully with caviar as it subtly complements the fresh ocean flavor. You can simply have blinis topped with crème fraîche and caviar to create a simple, delectable appetizer for your party. 



Crackers are also a common pairing for caviar.

Plain crackers don't overpower caviar's natural flavor, making them a great choice when serving it at a party. If you want to add more to a plate of crackers, you can choose any low-salt carb as it will go well with caviar. That includes a fresh piece of bread, toast, or unslated pita chips. 



Caviar is best served with champagne or vodka.

Champagne and vodka can cleanse your palate, allowing you to taste the rich flavor of fish eggs. So if you're looking for a drink to pair with your favorite caviar, you can never go wrong with a bottle of champagne or a straight shot of the finest ice-cold vodka. 
It's Time to Order Caviar! 
The culinary rarity and versatility of caviar make it the perfect treat for special occasions like anniversaries, holidays, birthdays, and corporate events. And if you want to have the finest caviar in the US, try Sterling Caviar. Apart from the complex flavors, Sterling Caviar has a unique combination of hazelnuts and earthy tones with rich, buttery, and velvety texture. Also, Sterling Caviar uses only white sturgeon roe and salt, keeping the natural taste intact. 
Treat your family, friends, and guests like royalty and serve caviar at your next party. And if you need high-quality caviar without breaking the bank, buy Sterling Caviar online today.