Description
This Royal-grade, White Sturgeon caviar turns ordinary moments into savory memories. The medium-to-large and semi-firm to firm pearls are adored by Michelin chefs, caviar connoisseurs, and everyone looking to turn an ordinary bite into an extraordinary one.
Sterling Caviar Royal's natural richness and complex flavors provides a flavor boost to your favorite dishes. From the honest baked potato to the hearty breakfast omelet, a spoonful of Sterling caviar can turn a Tuesday meal into a timeless one. While Champagne or sparkling wine and ice-cold vodka are traditional to serve with world-class caviar, don't be afraid to try a citrusy white wine like a Pinot Grigio, a red wine like a Pinot Noir, a dry Rosé, or even a chilled Pellegrino.
This award-winning caviar has been named the Product of the Year by the Specialty Food Association (SFA) and has received the sofi ™ Gold Award in the Seafood Category. Sterling Caviar is committed to providing transparency from our farm to your table. As a result, Sterling Caviar produces award-winning sustainable California-farmed White Sturgeon caviar.  
Celebrate life. Create memorable moments. Turn the usual into the exquisite with Sterling Caviar's Royal caviar.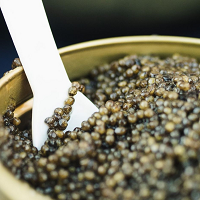 FAQs
What is your return policy?
If you are not satisfied with your order, please let us know within 24 hours and we will arrange to pick up and replace your order. Your happiness is our top priority.
What does your caviar taste like?
Sterling White Sturgeon caviar is best known for its buttery creaminess, light nutty flavor, and hints of crisp seawater.
What is the best way to store my caviar?
Caviar is extremely delicate and, as such, is highly perishable. Caviar should be stored in the coldest part of your refrigerator (32° F-35° F / 0° C-1.67° C). Depending on the style of your refrigerator, this is typically in the back and may be on the top or bottom shelf but never in the door. Pro tip: Look for the vent – the spot where the coldest air is being forced into your refrigerator. Never freeze your caviar.
How do I open my tin of caviar?
Grasp tin opener on the larger, oval side between thumb and index finger. Insert smaller, non-oval side of tin opener into space where lid and bottom of the tin meet. Pressing the opener against the tin and moving along the diameter, twist opener back and forth to separate the lid from the bottom of the tin until you hear a "pop." Lift the lid and enjoy!
How long will my caviar last?
Caviar is extremely delicate and, as such, is best consumed within 24 hours and up to 48 hours of opening. Unopened and properly refrigerated, your caviar will last up to 4 weeks.
Can you trace your white sturgeon fish and caviar?
Sterling Caviar stands behind all our products with full traceability, from the farm to your table. Sterling aquaculture and processing meet the standards for legal international trade in caviar and sturgeon products. We hold a current import / export permit and adhere to the requirements of the Convention on International Trade in Endangered Species in all our export transactions.
Reviews
"Treat your guests like royalty!"
– Arnie W., Sterling Caviar customer
ONE SCOOP IS ALL IT TAKES
Sterling Royal grade white sturgeon caviar, also known as "Black Gold," is identified by its medium to large, semi- firm to firm eggs. Unique coloring ranges from onyx to light or dark brown. A creamy mouthfeel is preceded by a rich, full and buttery flavor with aromas of mildly sweet, salty sea air. Due to its consistent taste and texture, this is an all-time favorite of newbies and connoisseurs alike.
*Bundles Not elegible for promo code promotions. Discount is built into bundle.
Finding the right Caviar