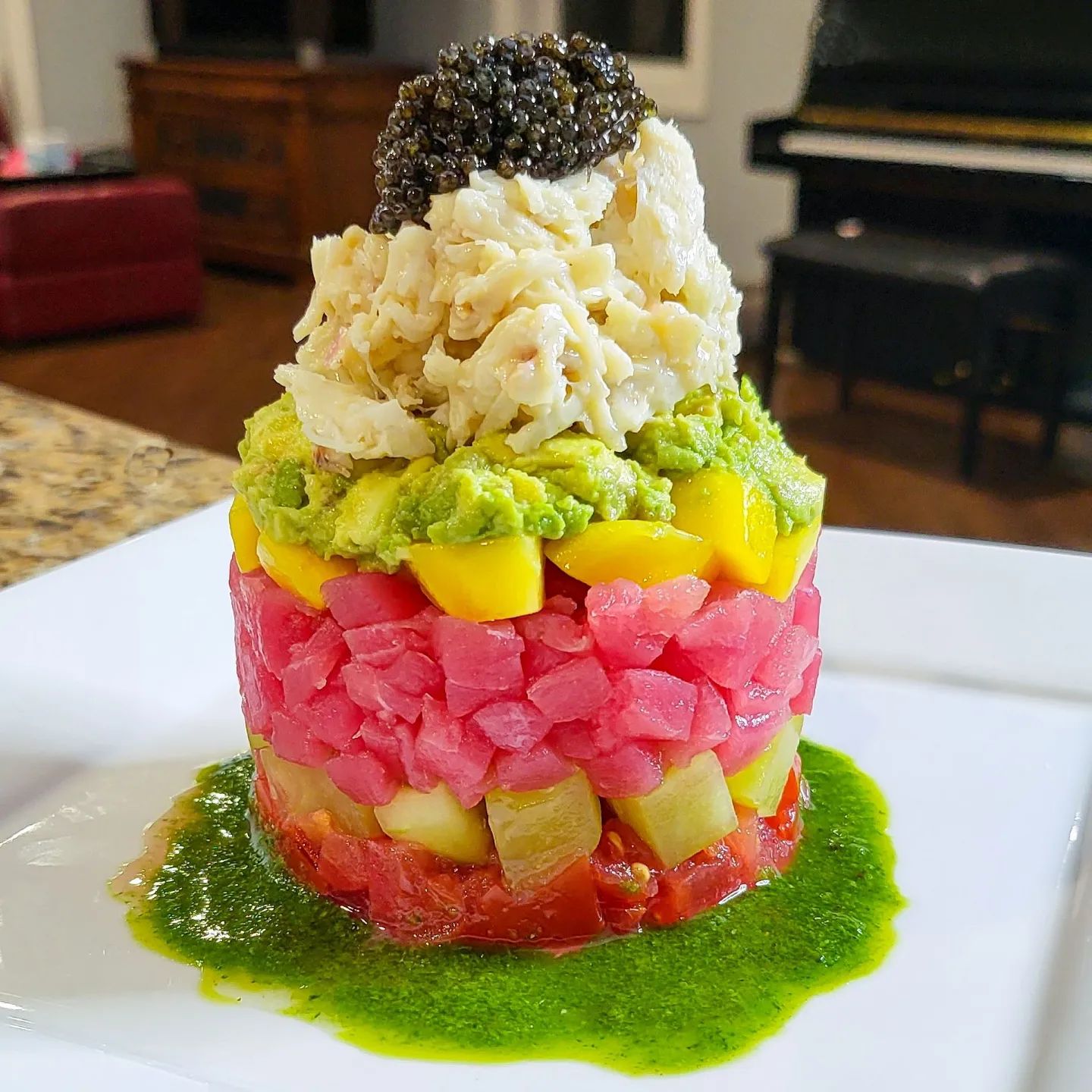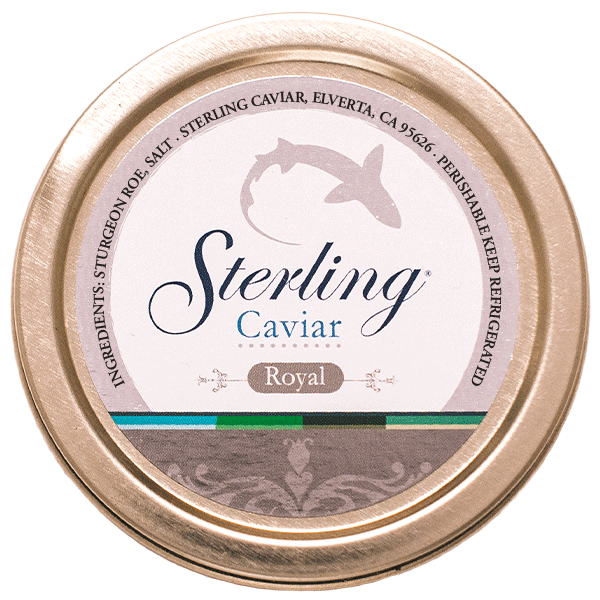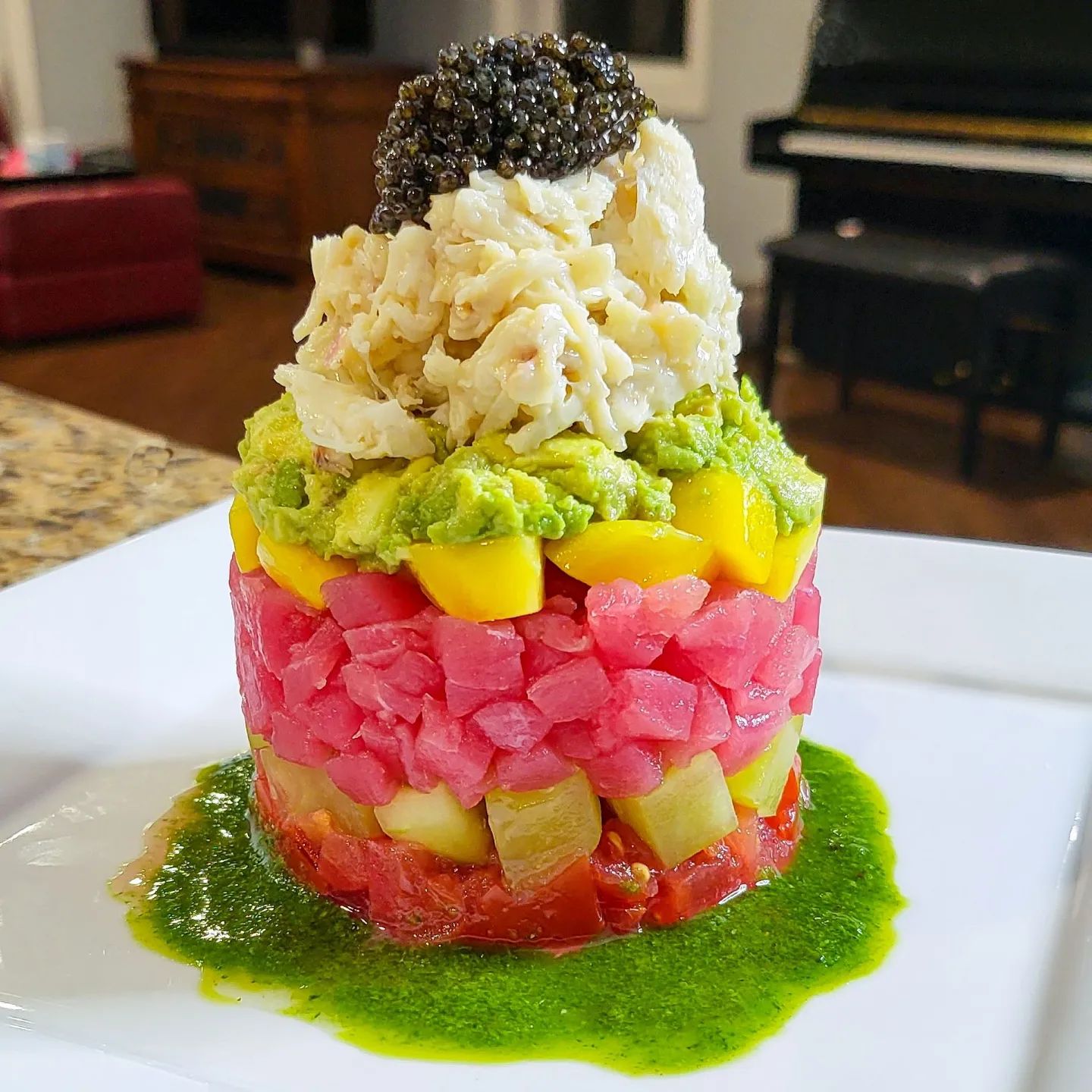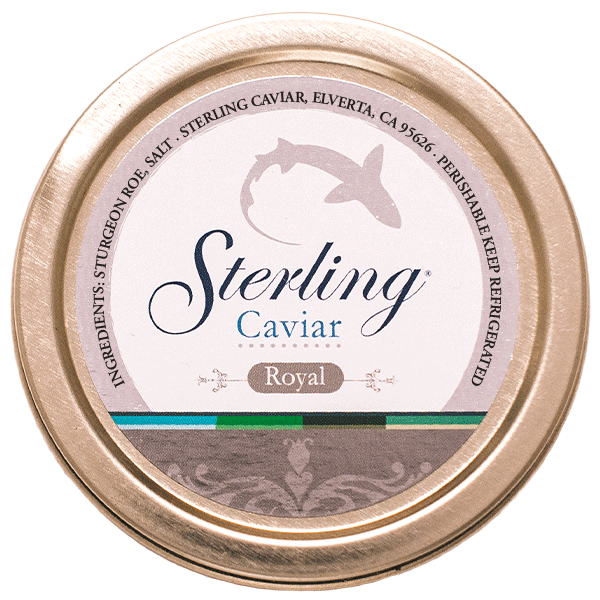 Ingredients
Ahi Tuna
Tomatoes
Cucumbers
Mango
Avocado
Lump Crab
Yuzu Beurre Blanc
Sterling Caviar
Basil Vinaigrette
Method
To Assemble:
I finely diced some beautiful sushi grade ahi tuna. To compress the veggies, I sliced the tomato and diced the cucumber and placed them in separate bags, vacuum sealed them using my chamber vacuum sealer and let them sit in the fridge for an hour. The compression really deepend the natural flavors and brightened the colors.
Beurre blanc sauce:
I cooked one minced shallot, 1/4 cup of dry white wine and 1 tbsp of yuzu juice until it reduced down to a little over a tbsps. I then whisked in one stick's worth of cold butter that I cubed into small pieces one piece at a time using that to toss with some lump crab meat. The mango was diced and the avocado was mashed with a little lime juice to keep it green.
Basil vinaigrette:
Blend together 1/2 chopped shallot, 1 cup basil leaves, 1 garlic clove, 1/4 cup olive oil, 1 tbsp of red wine vinegar and a pinch of salt and red pepper flakes. Lastly, the whole thing was topped with some delicious white sturgeon caviar from @sterlingcaviar.
Chef's Profile
David LaForce is a home cook who lives in the Chicago area. The father to three boys, David enjoys taking unique ingredients and combining them in new ways as well as pushing his culinary knowledge and skills with new techniques. When not cooking at home, David still enjoys thinking about what to cook next.
Chef's Social
Explore All Caviar Options